Stainless Steel Tube Fittings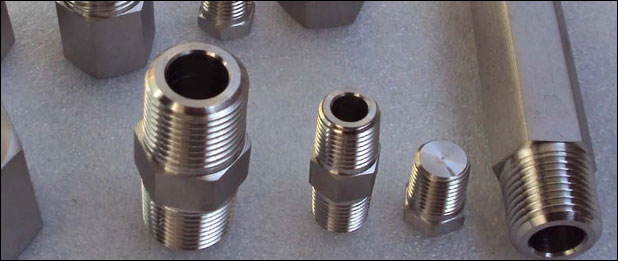 Manufacturer of 304/316 stainless steel Stainless Steel Tube Fittings, compression fittings, Instrumentation Tube Fittings, stainless steel Tube Fittings, Double Ferrule Tube Fittings, Ferrule Fittings, ASTM A276 Tube Fittings in India
Manufacturer, stockist & suppliers of 304/316 stainless steel Stainless Steel Tube Fittings, compression fittings, Instrumentation Tube Fittings, stainless steel Tube Fittings, Double Ferrule Tube Fittings, Ferrule Fittings, ASTM A276 Tube Fittings
Gautam Steel's premium collection of Stainless Steel Tube Fittings are ideal for a diverse range of industries, including process oil and gas, petrochemical, power generation, military, pharmaceutical, and more. GSPL is your superior alternative to Swagelok fittings & Parker A-lok. Components are fully interchangeable with Swagelok. We offer an assortment of Stainless Steel Tube Fittings & all instrumentation compression tube fittings in a range of corrosion resistant alloy materials, including 304 stainless steel, 316 Stainless Steel, 6Mo, Alloy 400, Alloy 825, Alloy 625, Copper, Brass, Titanium and more. Similar to Parker Instrumentation fittings GSPL Stainless steel tube fittings work reliably on both seamless and welded-redrawn, fully annealed type 304, 316 and 316L tubing.
Contents:
About GSPL Stainless Steel Tube Fittings
Ferrule Fitting of high quality and precision finishing are manufactured by Gautam Steel are are sold under our brand GSPL Ferrule Fitting. We manufacture both single ferrule and double ferrule fittings. Popular brands include Swagelok and Parker. GSPL Stainless Steel Tube Fittings is fully interchangeable with Swagelok & Alok fittings.
GSPL Ferrule Tube Fittings are composed of four precision machined component parts: The fitting body, front ferrule, back ferrule and nut. These fittings are shipped fully assembled and individually bagged.
GSPL Tube Fittings are designed, manufactured and inspected to the rigid quality requirements of the ISO certified production facility. These fittings have been tested and certified to a variety of Global International Industry standards.
All stainless steel fittings are Heat/Lot code traceable.
Interchangeability
GSPL tube fittings are manufactured to be totally "interchangeable" with the Swagelok® tube fitting. Piece by piece examination reveals that the two brands are totally intermixable.
The exceptional quality standards of both products assure complete reliability of service when intermixing the component parts.
* Swagelok® is a registered trademark of the Swagelok® Company
Stainless Steel Tube Fittings specification
Brand name

GSPL Stainless Steel Tube Fittings

Tube Size

1/16"OD to 2"OD, 2mm OD to 50mm OD

Material Grades

SS 304, SS 316, Brass, Special Alloys

Thread

NPT, BSP, BSPT, UNF, ISO, SAE etc.

Pressure Rating

6000PSI for Stainless Steel, 300/1000/3000PSI for Brass

Stainless Steel

ASTM A276 ASME SA 479

Brass

ASTM B16 ASTM B 453

Material Grades

Stainless Steel 304, Stainless Steel 316, Brass, Special Alloys, 20#,1Cr18Ni9Ti

PTFE Standards

ASTM D1710, ASTM D3294

Applicable temperature

150-400°C

Packing Details

As your detail request
Normally carton size – 21*16*14CM/31*21*16CM/36*45*50CM
Normally wooden box size – 38*27*17CM
Normally 1piece/opp, 10-20pcs/carton
GSPL Ferrule fitting are manufactured to sustain high pressures of upto 6000 psig. Fittings come with a product replacement warranty of 1 year and have inclusive Mill test certificate by Gautam Steel.
Technical standard:
Material: brass/copper
Technology: forging, plating, polishing
Connection: male and female, coupling, union
Size:  1/2"x D15mm, 1/2"x D22mm, 3/4"x D22mm
Application : Gas, Water supply systems, Solar thermal
Silver coated threads to reduce galling.
Stainless Steel Tube Fittings features
Features the GSPL® Stainless Steel Tube Fittings has been specifically designed for use on instrumentation, process and control systems, analyzers, and environmental equipment employed in chemical, petroleum, power generation, and pulp and paper plants. GSPL® Stainless Steel Tube Fittings have also been used extensively in other applications and industries wherever high reliability and quality are required.
Stainless Steel Tube Fittings benefits
Stainless Steel Tube Fittings are fully interchangeable with Swagelok.
Manufactured to an ASME Quality Certificate SPC is a feature of the QA process.
High quality silver plated threads on nuts to ensure no galling on the body threads.
GSPL Suparcase Ferrule for corrosion resistance.
Gaugeable Bodies.
Tube fittings supply with DIN, ISO, EN, SAE, MA certificate
Zero leakage even under tough working conditions
Good high-pressure/corrsion/extreme temperature resistance
Simple to operate and save time and cost because of the usage of elastic seal
Widely used throughout the world
It can be reused.
Leak-proof joints capable of satisfying high pressure vacuum and vibration application
Stainless Steel Tube Fittings price
Cities where we have our sales representative who can help you to buy Stainless Steel Tube Fittings: Mumbai, Bengaluru, Chennai, New Delhi, Pimpri-Chinchwad, Houston, Dubai, Seoul, Hyderabad, Singapore, Abu Dhabi, Pune, Kolkata, Gurgaon, Navi Mumbai, Ahmedabad, Tehran, Calgary, Noida, Riyadh, Vadodara, London, Coimbatore, Jakarta, Istanbul, Bangkok, Kuwait City, Thane, Sharjah, Muscat, Edmonton, Busan, Mexico City, Doha, Jeddah, Aberdeen, Cairo, Geoje-si, Perth, Santiago, Chandigarh, Indore, Kuala Lumpur, Rio de Janeiro, Dammam, Melbourne, Madrid, Surat, Bhopal, Ulsan, Faridabad, La Victoria, Bogota, Lahore, Los Angeles, Algiers, Chiyoda, Ankara, Ho Chi Minh City, Toronto, Hong Kong, Rajkot, Brisbane, Petaling Jaya, Ernakulam, Secunderabad, Gimhae-si, Al Jubail, Port-of-Spain, Thiruvananthapuram, Milan, Atyrau, Lagos, Hanoi, Howrah, Sydney, Ahvaz, Karachi, New York, Caracas, Vung Tau, Al Khobar, Manama, Montreal, Granada, Courbevoie, Visakhapatnam, Ludhiana, Moscow, Dallas, Haryana, Colombo
Countries where we export Stainless Steel Tube Fittings regularly: India, United States, United Arab Emirates, Canada, Pakistan, Peru, Chile, Spain, France, United Kingdom, Indonesia, Israel, Iran, Kuwait, Mexico, Malaysia, Nigeria, Serbia, Singapore, Taiwan, Chile, Venezuela, Ecuador, Saudi Arabia, Netherlands, Brazil, Colombia, Ghana, Iran, Denmark, Poland, Australia, Afghanistan, Bahrain, Costa Rica, Egypt, Iraq, Jordan, South Korea, Kazakhstan, Sri Lanka, Lithuania, Norway, Oman, Philippines, Poland, Qatar, Russia, Vietnam, South Africa, Nigeria, Mexico, Turkey, Hungary, Algeria, Angola, Argentina, Austria, Azerbaijan, Bangladesh, Belarus, Belgium, Bhutan, Bolivia, Bulgaria, Croatia, Czech Republic, Estonia, Finland, Greece, Italy, Japan, Libya, Romania, Thailand, Trinidad & Tobago,Tunisia, Ukraine, Yemen, Hong Kong, Gabon, China, Portugal, Switzerland, New Zealand, Sweden, Slovakia, Kenya, Lebanon, Morocco, Mongolia
Search for Manufacturers Suppliers of Stainless Steel Tube Fittings ends at Gautam Steel, we offer better quality & better price. Stainless Steel Tube Fittings manufacturers, Stainless Steel Tube Fittings suppliers, Stainless Steel Tube Fittings exporters, Stainless Steel Tube Fittings distributors, Stainless Steel Tube Fittings stockists, Stainless Steel Tube Fittings stockholder, Stainless Steel Tube Fittings price, Stainless Steel Tube Fittings current price, equivalent to Swagelok fittings distributor, equivalent to Parker fittings distributor, equivalent to Swagelok tube fittings distributor, equivalent to Parker tube fittings distributor, High pressure Instrument Tube Fittings manufacturer, 316 stainless steel tube fittings manufacturer, 304 stainless steel tube fittings manufacturer, Stainless Steel Tube Fittings with Mill test certificate